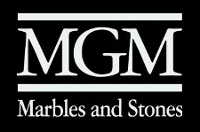 There is a precise philosophy behind MGM's success – giving stone back its true value, prestige and naturalness, in order to keep in contact with nature, modernity and elegance.
With support from the family-run business Bresciana Graniti S.p.A., MGM can count on state-of-the-art processing methods, giving cuttings and patterns worthy of the most capable craftsmen and architects of bygone times, to meet the needs of ever more demanding professionals and customers.
The MGM love of stone can clearly be seen in the magnificent Stone Gallery in Nuvolera, near Brescia, which is open to the public and displays a vast collection of over 500 different materials.
The exceptional aesthetic impact of quality marble is enhanced by the semi-precious stones that go into MGM's designs for customers seeking something out of the ordinary.